The latest in our series on Books for Editors is a hefty tome with a hefty title: Butcher's Copy-editing: The Cambridge Handbook for Editors, Copy-editors and Proofreaders. 
.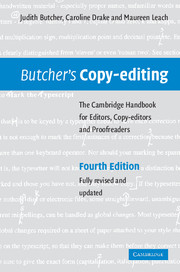 .
Being generous types here at My Blue Pencil, despite our Oxford base we are perfectly happy to include a book with its roots firmly in the 'other place' (i.e. Cambridge). This book started life as a set of rules and regulations for the editorial team at Cambridge University Press, but has since grown to become an essential on any serious editor's shelf.  Since its first publication in 1975 (the current edition is the fourth), it has set the standard for anyone preparing text for publication in whatever medium. Described by our professional body, the Society for Editors and Proofreaders, as "the copy-editor's bible", it covers all aspects of the editorial process and runs to over 500 pages of detailed guidelines and invaluable references. Indeed, its comprehensive glossaries and checklists are one of its real strengths and it is the sort of book that, even after many years of professional editing and proofreading, most editors still find themselves consulting on a regular basis.
.
Unlike some of the other books that we at My Blue Pencil have written about in this series, this is a serious reference book probably of interest only to professional editors, with none of the humorous touches that make Guardian Style and The Economist Style Guide such easy reads. Nonetheless, it is clearly and intelligently constructed and has an answer for everything.
.